House Not Selling? Here's What You Can Do
Posted by Jeffrey Fowler-Gray on Tuesday, September 19, 2023 at 11:16:46 AM
By Jeffrey Fowler-Gray / September 19, 2023
Comment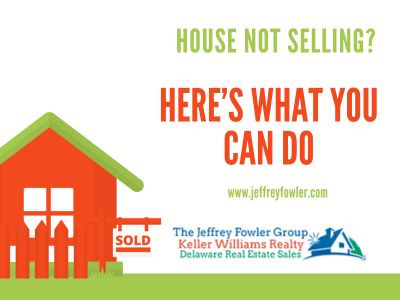 If you have a home in Sussex, Kent or New Castle cities and towns and it's not selling there could be a variety of reasons why. The Delaware real estate market is hot and prices continue to rise and yet, homes are still selling fast. This might leave you wondering why your listing is sitting on the market stagnant without selling. But, why? It's time to step back, take a good look at your home and find out why your home may not be selling.
#1. Adjust the price.
It may simply be time to adjust the price. If you started at a decent price but your agent feels it may still be too high, it probably is. Real estate agents spend most of their time running comparable sales in the area, researching the market and have a pretty good idea of what will sell and what won't sell. By adjusting your price to where it should be or even slightly lower, you're more likely to get the right buyers in the door. This is why when it comes to pricing your home, your agent should do in depth research, market reports, etc. to ensure that the home is listed right the first time!
#2. Take a look at the photos.
Do the real estate photos really set your home apart from your closest competition? In today's real estate market many real estate agents and homeowners are taking professional photos of their home in order to draw in the right buyers. Take a look at your home during different times of the day in different light. This can greatly affect the look and feel of your home. Make sure that the photos are professionally taken and really are sharp, clear and show your home in the best light. Also, take a look at the room in the picture; is a clean, neat and tidy? Are toilet seats put down, garbage put away and counters and tables cleared off? The picture might be of great quality but if what it's showing is a mess, buyers still won't want to come close.
#3. Does the condition of your home match the price?
Do you want top dollar for your home? Then you have to present it as such. Real estate agents will be honest with you and tell you that if you want a certain price, you need to make your house rise to the occasion. Does the home warrant a high price tag? Has it been updated? Is it clean, neat and organized? Is it professionally staged? All of these things can affect your price and if you don't present your home in a way that matches your perceived value, you simply won't get any offers.
#4. The location or layout is funky.
This may not be something that you can change at all but it probably will affect your ability to get an offer. That being said, the only way to compensate for an odd layout or bad location is to adjust the price. Unless you want to take the time to remodel your home, adjusting the price may be the only way to get an offer. I know that's not the ideal option but emphasizing the positive features of the home is a great way to overcompensate for the negative aspects such as living by a busy road, or an odd layout such as a bathroom off of the kitchen. Additionally, in some cases, buyers may be searching for a home with character, you can try to hire a staging company to play on your home's specific quirks and odd layouts to try and help them flow together more seamlessly than before.
There's usually always something that is preventing a home from selling. Finding that out as soon as you can will help you adjust where you need to in order to get it sold.