8 Crucial Steps to Selling Your Delaware House
Posted by Jeffrey Fowler-Gray on Tuesday, October 10, 2023 at 12:29:10 PM
By Jeffrey Fowler-Gray / October 10, 2023
Comment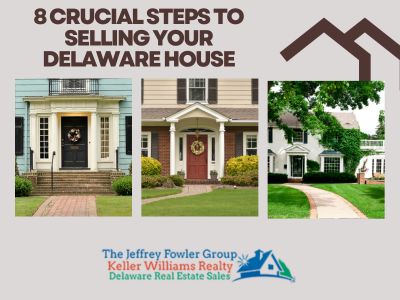 Are you preparing to sell your house in Delaware? This in-depth article breaks down the process you will undergo when selling your Delaware house into 8 simple steps that are easy to follow. You will learn how to find the perfect agent for you, how to price your home for its value, how to negotiate with buyers, and how to breeze through the closing process with efficiency. Now, like everywhere else, is the prime time to sell your house in Delaware.
Continue to read to find the 8 crucial steps to follow when selling your Delaware house.
1. Finding The Right Realtor
Selling a home isn't easy, especially if it is your first home. This process can be a high-stakes, complex transaction that requires a considerable amount of time and hired expertise to get the desired outcome. If you want to sell your Delaware home for the best-valued price to minimize added stress, you will need to match yourself with a top-rated real estate agent in your county. The best listing agents in Delaware know what local buyers want and how to best appease them. A professional agent will offer expert advice, guidance, and personal support every step of the way from the listing to the closing.
2. The Perfect Selling Time
The best time to sell your house in Delaware can vary based on many factors from the season to the economic outlook. Timing the market is critical if you want to get top dollar for your house. Traditionally, Delaware follows the national trend of house listing in the Spring. Homes sell quicker in this season and for a higher price! The colder winter months are the wrong time to sell as home sales slow.
3. Pricing Your Home Appropriately
Pricing your home at the correct amount is critical for both you and your buyer. As the seller, it makes sense you want to get the best price for your home. At the same time, your local market conditions will influence your home's current value. Buyers tend to look for properties based on price. Pricing your home too low or too high can mean missing out on connecting with an eager buyer, leaving your house sitting on the market for a long period, which can depreciate the value of your home. If you stay ahead of the process and are looking for a general idea of what your house is worth, a free online home value estimator is a great place to start.
4. Marketing & Showing Your Home
Most homes aren't in buyer-ready condition, and it takes a lot of elbow grease to attract the best buyers. Before listing your home, give your house a deep clean inside and out. Add curb appeal to give a strong first impression when potential buyers arrive for showings. Home staging can give your house the optical illusion of being larger than it is. Remove bulky excessive furniture, reduce the clutter in bedrooms and closets, and store away personal items. You should make impactful repairs and improvements to make your home look up to date. Fresh paint, new appliances, and new flooring are common fixes that brighten your home to increase its value. Once your home is in buyer-ready condition, consider how you will market your property. Professional photos are a must to show off your home's best features along with an appealing listing depiction that will dazzle potential buyers so they will want to see your home in person. The bottom line, keep your home show ready at all times.
5. Fielding Offers and Negotiations
When an offer is made on your home, you will have the chance to make a counteroffer. If the buyer's initial terms are unsatisfactory, whether it be price or other requests, sellers can make a counteroffer. Be careful you don't wait too long to consider an offer though, because buyers can stipulate in their offer how long you have to respond before they will withdraw their offer. It is always important to carefully review the terms in full length so you don't miss out on a prime opportunity. When it comes to negotiation periods, they can last depending on your and the buyer's level of motivation to reach an agreement. As we mentioned above, real estate agents come in handy from time to time, and if you have partnered with one, the agent can handle much of the process for you.
6. Getting Appraised & Passing Inspection
The home inspection is one of the most overlooked steps to selling a house in Delaware. When your home goes under contract, the buyer will arrange for a home appraisal and an inspection of the home, along with a contingency that allows them to back out of the offer if something goes awry. Once both the appraisal and inspection are complete, the buyer can continue to negotiate based on the findings, such as major flaws in the home that can lower the agreed-upon price. If the buyer is working with an agent, they may be being guided through the process, making it important that you as the seller also work with an agent to level the field and use expertise to get a fair offer.
7. Required Delaware Disclosures & Paperwork
As the seller, in Delaware, you are legally obligated to disclose specific facts about your home. You are also required to disclose material defects you know about. Every state requires you to disclose the presence of lead-based paint because of federal law. There is a lot of paperwork that goes into selling a house. Consult your agent or attorney before signing or filing paperwork, as a licensed professional will walk you through all the paperwork and ensure you have everything you need for your situation. Below are the required forms and documents you should be aware of for selling a house in Delaware:
Two forms of ID
Copy of purchase agreement and addendums
Closing statement
Signed deed
Bill of sale
Affidavit of title
Real estate tax return declaration of estimated income tax (a form of 5403)
Below are the following Delaware disclosure forms you may run into:
Seller's disclosure of real property report
Seller's disclosure of real property condition report—New property
Flood zone statement
Lead-based paint disclosure
8. Closing Process
The closing is the final step to selling a house in Delaware, this is where the buyer takes possession of the property and the seller receives their payment for the sale. Before closing, the closing attorney will perform a title search of the home, and if the title is "clear" the closing will proceed on schedule. On the day of closing, the buyer and seller will sign paperwork and the buyer will submit their payment to the attorney. Many closings in the state of Delaware are complete within 30 days of the home going under contract, though the timeline can vary. An agent is the best way to navigate the process of selling your house to keep you on your desired timeline so you can be fully prepared for where your next dream home may be.
Whether you are thinking of listing your house in Delaware now or next year, it is never too early to start looking for an agent, getting input, and drawing up a plan.