7 Foolproof Ways to Save Money When Moving to Delaware
Posted by Jeffrey Fowler-Gray on Wednesday, October 25, 2023 at 2:22:06 PM
By Jeffrey Fowler-Gray / October 25, 2023
Comment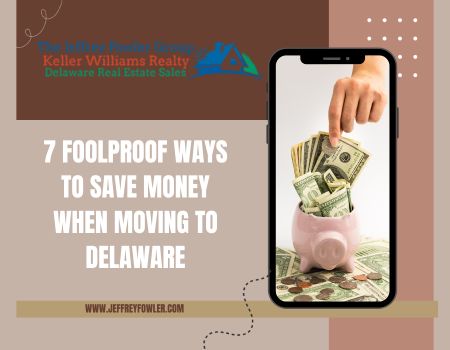 Moving is an exciting time, but it can also come with all its stresses. From finding the time and energy to unbox your home possessions, to picking a trustworthy professional moving service to safely transport your belongings from the old to the new, there are many factors to consider.
Moving can be a hefty financial burden to bare, which is why we have listed 7 ways you can save money on your next big move.
1. Consider The Cost
A good place to start when estimating the cost and gauging how much your move is going to put a dent in your bank account is by hopping online and checking out a moving calculator. This method will provide a solid median before you start making those calls to the different moving companies and getting quotes. Understanding how much your move is going to cost you and your family can help prevent you from overspending by going with a bid that is way too high.
2. Skip Out on Buying Supplies (For Now)
Purchasing boxes, bubble wrap, and endless amounts of moving tape will add up. But don't despair, you can cut down considerably on your moving costs by getting creative with how you will source your items. Reach out to neighbors and friends who have recently made a move themselves if you can take their boxes and extra moving supplies. You can also be resourceful by using what you have in your home; items such as socks, old t-shirts, and sweaters work wonderfully as alternatives to wrapping glassware and protecting your valuables.
3. Host a Sale
Hold a yard sale to make money and help save you money on your move. Take the time to get rid of excess items in your household, from clothes to furniture and smaller trinkets you don't wish to bring with you to your new home. This creates an opportunity to decrease the number of necessary movers and the size ofcle scheduled for your job, the moving costs you extra money.
4. Create a Plan B
You can try everything in your power to create a smooth move, but there is always the lingering possibility that your timeline—including your move-in date—could go awry at the last minute. Having a plan B in place can help you save money in the long run. Make plans ahead of time to stay with a friend or family member in case your move is delayed. In addition, it is wise to consider choosing to work with a long-distance moving company with flexible options that won't charge you a fee for making any changes on short notice.
5. Pack Strategically
Pack your home goods using fewer boxes, as you can save on space, time, and most importantly, money! Be tactical with your packing by nesting items inside of others. With mindful packing, you will be able to fit more items into a single box. You can condense the number of total boxes you have to move, creating the possibility of using a smaller moving truck and saving more money.
6. Cancel Utilities
Instead of covering yourself by timing your utility shut-off perfectly, consider canceling your current services and starting fresh—don't get caught up paying the cable and Internet costs for two places at once. Internet and cable providers will offer specials and discounts for opening new accounts, an opportunity to shop for the best deals, and save on spending money on bad deals.
7. Consider Moving Yourself
Moving can be a financial burden, but taking the time to consider all of your options is important. If you are concerned about saving money on your move, consider renting a moving vehicle and doing it yourself. It is worth looking into prices and comparing costs to determine how much money you can save by choosing this option.
Learning to say no to expensive temptations is critical, be aware of what you spend and take advantage of the things that your new big city can offer you after a big move.