6 Key Tips to Successfully Renting Out Delaware Property
Posted by Jeffrey Fowler-Gray on Monday, October 16, 2023 at 9:30 AM
By Jeffrey Fowler-Gray / October 16, 2023
Comment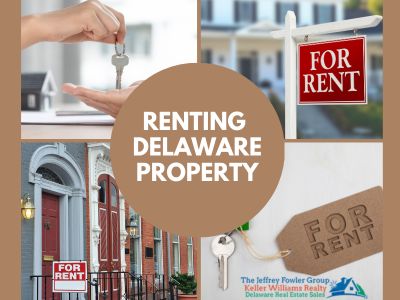 When it comes to renting out a property in Delaware, this process can be straightforward. However, it is important to follow certain practices to ensure you find a suitable rental property while having a positive rental experience.
Continue to read to find our 6 top tips for renting a property in Delaware.
Finalize Your Budget & Needs
Before you even begin looking for a rental property, it is always important to have a clear idea of your budget and the type of property you might be looking for. You need to consider some factors before settling on anything. From the size of the property to the number of bedrooms a s bathrooms and any other special amenities you desire, we recommend drawing up a list of needs and wants.
Search for Rental Properties
There are many convenient ways to find rental properties in Delaware, from online listing webpages to classified ads. Perhaps partnering up with a real estate agent who knows your desires in rental properties is the better option for you to personally settle on your dream spot. You can search for rental properties in a more hands-on manner by driving around neighborhoods in Delaware where you might be interested in any of those special amenities you are interested in.
Check Over the Rental Listing Closely
Make sure when you come across a rental listing that you carefully go over it to ensure the property meets your needs and standards as far as budgeting goes. Pay attention to details, such as the rent amount, as well as the length of the lease, and any hidden deposits required to live on the premises. There may be some restrictions and policies that might apply that can seem unappealing after the fact, so save yourself the disappointment and make sure you closely examine that rental listing before putting any money down.
Tour the Property In-Person
Sure, touring properties virtually is convenient, especially in the day and age of technology we live in. However, there are always certain things that cameras tend to "gloss over" that can seem either extra appealing or completely put you off via touring. This is why we suggest touring a potential rental property in person. Touring in person allows you to get a good feel for the neighborhood, the condition of the property, and any issues that might arise during your tenancy.
Review the Lease Agreement
Before signing any papers—virtually or in person—we suggest making sure to carefully go over all of the terms and conditions to ensure you understand your tenant rights and responsibilities when living on the rental premises.
Closely Follow the Terms of the Lease
Once you sign the lease agreement, it is important to follow all of the terms and conditions to avoid potential issues during your stay as a tenant. This might include paying rent on time, respecting the property and your neighbors who live close by, and following rules and policies that apply to the property and your stay there.
By following these six steps we have carefully laid out for you, your chances of scoring a suitable rental property in Delaware and having a positive rental experience will double.